 This Penneys coat isn't typical of the budget brand, but it's something you might want to add to your collection.
When it comes to coats, Penneys plays as well as its slightly more expensive high street counterparts. If the fashion is a camel coloured trench, they'll produce a camel coloured trench. If the style of the day is a cropped bomber, they'll have three styles to choose from. This A/W they had long, masculine overcoats galore - and all the required accessories to go with them. But there's one thing that Penneys coats -in general - lack and that's cosiness.
Let me know if you've experienced different, but in my own experience, Penneys copies of the coat style du jour tend to lack in the lining department. Penneys is the epitome of fast fashion, though, so such pieces are probably only meant for sporadic wear when the style is 'in fashion'. (Let's put a stop to that, shall we?)
This coat, though, is different. It has several features atypical to your usual Penneys coat. For one, it's not the trendiest style on the street. For another, not everyone is going to have it. It's also a slightly higher price point than we're used to - and that's what mainly sets it apart.
This season, the most popular coat and jacket styles are long belted classics and short, light puffers (which Penneys has plenty of, costing €17). You'll probably also have noticed all the knee-length black 'classy' puffers (mostly from Zara) with high or unusual necklines. Despite Christmas being over, we're only entering the cold months now, so those puffers sure will come in handy. But so will this. And you will be among the select few wearing it.
Penneys
Advertised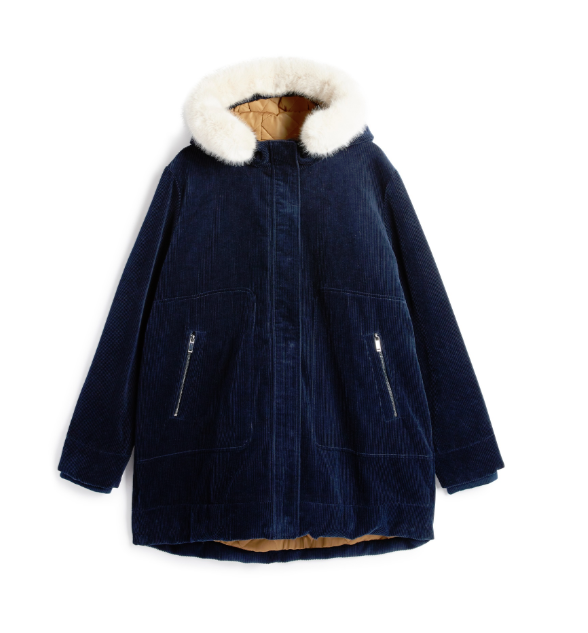 Corduroy Navy Parka Coat €50
How. Cosy? It's your everyday, casual coat but in a cool nineties style. We love the padded inside, the fur-lined hood and the zippers on the front pockets. The slight cocoon style makes it more 'now', but it will serve you well for a good few years to come.
Can't you see how handy this will be? Will you picking one up for all the long walks you've been planning on going on in 2019?