 Many brides choose to wear a veil on their Big Day. But you don't have to. You don't have to wear anything. Or you can wear one of these wedding veil alternatives.
When Princess Eugenie first gave us a glimpse of her wedding look as she climbed out of her carriage and up the steps of St George's Chapel, the first thing we thought was, wow. Then we thought of a lot of other things before realising she wasn't wearing a veil (including how cool it was that she was deliberately showing off her back scar). Because it didn't matter. The lack of veil did not take away from the bridal look in any way.
Tradition
The last two Royal brides, Kate Middleton in 2011 and Meghan Markle in May this year both chose to wear 'traditional' elaborate veils. Meghan's received attention because she had it embroidered with flowers from the commonwealth, a 'surprise' for Harry. As a hat does, a veil can be the finishing touch to a bridal ensemble, but it's definitely not necessary.
Brides have been wearing wedding veils since ancient Greece and ancient Roman times when popular thought says it was worn to 'confuse the spirits.' Fast forward to 1840 when Queen Victoria got married and became the first 'modern' monarch to wear a veil (she is also responsible for the white dress trend). Traditional wedding dress style hasn't changed an awful lot since then; the majority of brides, in my experience, follow the same formula. However, in the same way that couples getting married are thinking outside the 'church and hotel reception' box, brides are getting more experimental with their wedding attire.
The modern bride
While white (or, should I say, a variation of one of the many shades of white) is still by far the most popular colour choice for a bride getting hitched in the Western world, colourful touches like blue shoes are gaining in popularity. Hemlines can be any length. It can come from an expensive boutique or online from ASOS. Hair and makeup can be 'done', but some brides, like Meghan Markle are opting for the almost completely natural look. And some brides aren't considering a wedding veil at all.
When I got married, I barely thought about adding a veil to my bridal look. I didn't think a veil would look right with my Parisian-style, urban wedding dress. Instead, I placed a little slide in my hair. What do you think? Should I have worn a veil?
For me, the slide did nicely, but I know that some brides-to-be like the idea of something on their head. So, here are some alternatives to the traditional wedding veil.
The tiara
You don't have to be a princess to wear a tiara! Although, fun fact, only married women members of the Royal Family get to wear one on special occasions. The first time she is likely to wear one is on her wedding day.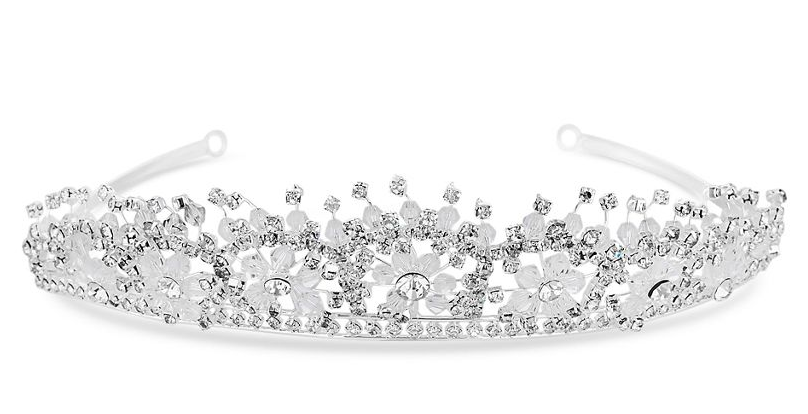 Jon Richard Floral Beaded Tiara €90
Flower Crown
Advertised
Not just for festivals! If you're going for a boho look, a fresh flower crown could suit your look perfectly. It doesn't matter if your wedding isn't in summer, either; a flower crown made with winter leaves, and berries could also look gorgeous.
A surprising headpiece
Sometimes, you just want to go out there. A member of Team Beaut wore a headpiece by Irish designer, and it looked simply incredible.
A hat
My mother wore a forties inspired wedding suit for her eighties wedding complete with a cute box hat. Yes, it did have a veil, but it only went down to her nose.
A headband
Sometimes, something simple will do just nicely. Don't go for a thick velvet headband if you think it will age badly; maybe consider a strip of silk or satin fabric instead. Something bejewelled could also be lovely. If you have a vintage engagement ring, you could wear a headband to match the design!
Advertised
Did you / would you wear a veil on your wedding day? What did / would you do instead?