 It's a feature not often seen on wedding or bridesmaid skirts or dresses but these skirts are reasonably priced AND they have pockets!
A couple of week's ago, a picture of a bride and her tribe went viral. No, they weren't holding puppies instead of bouquets. And no, they weren't dressed in costume. They were all wearing perfectly lovely wedding garb except each dress had one unusual feature. They all had pockets.
See the on-sale jumpsuit that would be the coolest thing for bridesmaids.
The picture sparked debates about the everyday sexism of skirts and dresses not automatically having pockets. The bride was right when she remarked that the groom and groomsmen wouldn't be requesting pockets when they ordered their suits.
My friend got married last month and her dress and the bridesmaids' dresses ALL HAD POCKETS.

And yes, we did use them for storing snacks, thank you for asking. pic.twitter.com/3fRWtmJS2F

— Nell Goddard (@alianoree) January 23, 2019
I have a friend who got married in 2016 and her dress had pockets and so did her 'maids. They definitely appreciated them, and I know I would, too. I've been to so many weddings where I couldn't hide my cried-on tissue anywhere except the palm of my hand. Cue awkward moments when greeting the bridal party at the top of the church.
Advertised
I went on a mission, then, to put together a list of bridesmaid dresses and skirts - as is my wont - to make some bride's life a little bit easier. It was almost impossible. Very, very few formal dresses have built-in pockets, let alone those marketed specifically to a bridal party. I knew I would strike lucky in Folkster, though. The Mel Gibson of the Irish bridal dress world, they know what women want. There are two styles with the coveted feature, and they come in a wide array of colours, too.
One version comes at the special price of €69 and the rest or €109, which aren't so shabby either. 
Folkster - Lena Skirt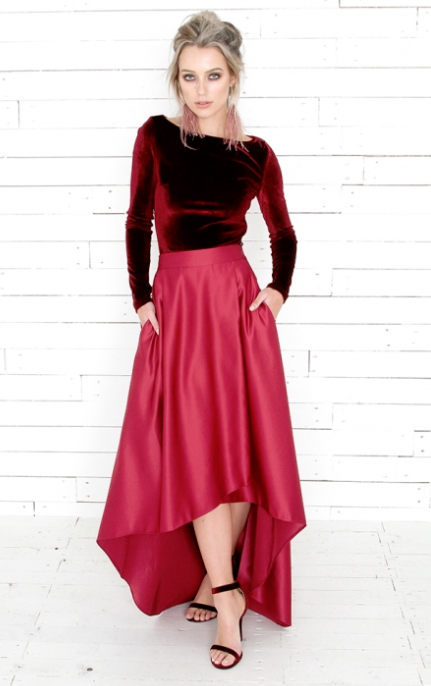 Advertised
Lena Skirt in Blush €109 / Lena Skirt in Gold €109 / Lena Skirt in Midnight Blue €109 /
Lena Skirt in Silver €109 / Lena Skirt in Black €109
Folkster - Sarena Skirt