 Nobody I know has New Year party plans this year. Therefore, I have no plans. It looks like I might be staying in for the first time ever, which doesn't horrify me. I'd quite like to wake up on New Year's Day hangover free and ready to start 2016 on the right foot.
But then again, if I get word on the 31st that something of the party variety is happening I'll happily go along to take a cup o' kindness and remember old acquaintances and all that. So, I need to be prepared for all possibilities. And that's where queen of casual chic Alexa Chung comes in.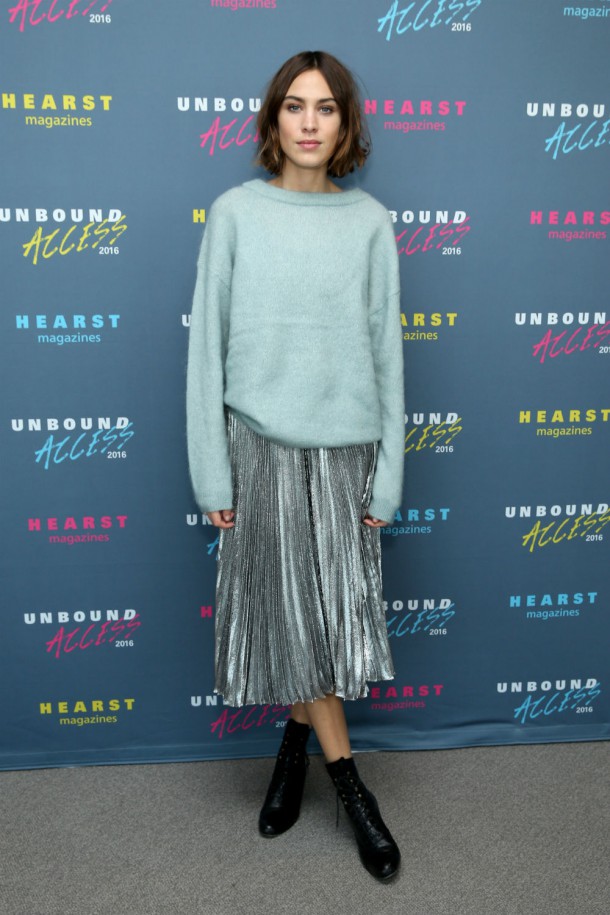 The skirt she's sporting was one of the most popular styles of 2015 so chances are you already have one in your possession or you can nip out to the sales and pick one up fairly easily. Alexa follows the mixing glam with comfy train of style thought, as demonstrated with this practical and fetching jumper, and that's a good look for when your plans are up in the air. Covering all bases, you'll be! Alexa has pulled on a pair of easy-to-wear boots and boom, she's just won best dressed without very much effort at all.
Advertised
This is the perfect type of ensemble for New Year's Eve for those who have iffy plans and those who don't want to go down the cliched route of sparkly LBD or the like. I would wear a light tank top under the jumper so I could whip it off when it (inevitably) gets hot and sweaty.
If wearing a jumper on New Year's Eve is just never gonna happen where you're concerned, another of Alexa's most gorgeous looks - her embellished frock at a Bylgari and Rome event - might give you some more inspiration. And if she doesn't someone else at the event will, because it was one New Year's-y red carpet.