 We're not always gentle on our eyes. But these simple tips help to remove all traces of eye makeup AND minimise irritation. It's a win win situation.
Eye makeup is something we absolutely love here at Beaut HQ. From liquid and gel liners to lash plumping and lengthening mascaras, pencil liners, shadows, glitter. Oh, and let's not forget liquid eyeshadows, crayons and cake eyeliners as well as false lashes and... ok, you get the picture. Basically, it's a case of you name it, we'll wear it.
As we know though, one of the fundamental rules of makeup is: wear whatever and however much you want, just remember to take it off at night. At least, that's always been a rule I've tried to stick to. Of course, sometimes you end up face down in the pillow. It can't be helped. But if you're good 99% of the time then all is forgiven.
Taking off your makeup, and eye makeup, in turn, is just part of it though. You might be able to get away with using wipes as a teen (still wouldn't recommend it, though). But as we get older, it's so important to protect the delicate skin around our eyes. That's where these simple tips come into play.
Soaked Cotton Pads
This sounds like the most basic thing in the world, but it absolutely works. The trick with using soaked cotton pads is to have a little bit of patience. Start by applying your eye makeup remover to the pad, gently pat it in so it's damp but not sodden (any excess liquid could go into your eye, making it sting).
Advertised
Place the pad onto eyes and lightly press it against your eyes. Leave it in place for 10 seconds. This allows the remover to start breaking down the makeup underneath it (so no need for rubbing which could make it go red). Then, in one movement, sweep the pad up and outwards. Repeat until all makeup is gone. The end result should be completely clean eyes, free from stinging or irritation!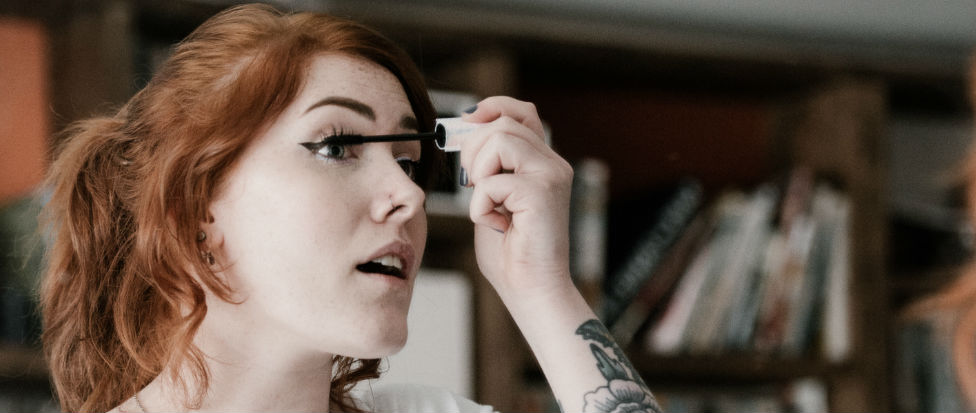 Stubborn Mascara
We all love a long-wearing mascara, but they can be tricky to get off at night, especially if the formula is waterproof. But there's an easy way to do it that doesn't involve scrubbing the bejaysus out of your eyes yay!
First, take a cotton pad and soak it lightly (as above). Fold it in half and place it underneath your lower lashes. Then, take a cotton bud and dip both ends into a dual phase eye makeup remover. Alternatively, you could use a pre-prepared product like Moxi Loves Eye Catchers (€4.99). Close your eye so your top lashes are touching the cotton pad and then gently roll the cotton bud along lashes. Use two or three if needed. The excess mascara will start to seep into the cotton pad underneath and voila, no more mascara.
Advertised
Are you a little rough with your eyes too? Do you always remember to take off your makeup at night?