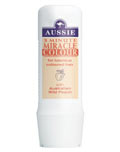 Fading dye is an eternal problem for anyone who regularly colours their hair - you really don't want to wash it as much as you should lest it all race happily away down the plughole to add gloss, shine and cover greys on the coats of gigantic sewer rats instead. And no, I'm not talking about your ex-boyfriend.
Aussie 3 Minute Miracle Colour was formulated with just this pesky dilemma in mind. It promises to freshen coloured hair in, yup, three minutes. Aussie say "the unique formula, blended with ripe Australian wild peach extract, helps replenish and revitalise your coloured hair".
Advertised
It's suitable for dry colour-faded hair and it's decently priced too - it'll set you back under a tenner from Boots.