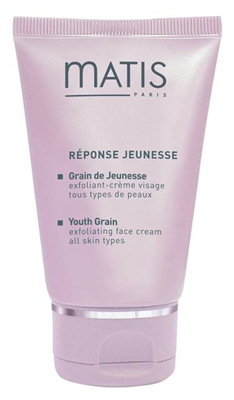 Like your exfoliants a weeny bit on the grainy side and packaged in purple tubes? You'll like this Youth Grain stuff from Matis, so. It's part of their Résponse Jeunesse line, which is a range of preventative anti-aging products aimed at preserving youthful skin.
Super-creamy and actually very soothing and lush in texture for an exfoliant, Youth Grain works to tackle skin dullness and impurities in two ways. Delicate micro-pearls, which are so small you can feel but can't quite see them, provide a mechanical exfoliating action to eliminate superficial dead skin cells at the skin's surface and prepare skin for the deep cleansing and gentle peeling action of papain extract for more luminous skin. Kokum butter and extracts of purple orchid and cranberry help to soothe skin and make for a very comfortable exfoliating experience.
Despite the fancy-sounding ingredients and decidedly posh texture, this is dead easy to use: just bung it on to face and neck, avoiding the eye area, exfoliate in gentle circular motions with fingertips, leave on for a few minutes to allow the papain peel to do its thang, and rinse with water.
Advertised
Me likey.
€31.28 from French Beauty