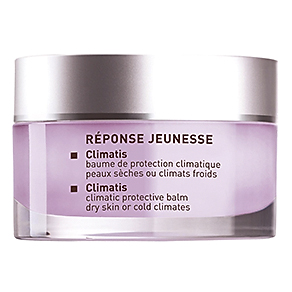 Just in case you were all tossing and turning at night worrying about how my skin's getting on, here's an update: shortly after I posted about L'Occitane's new Organic Olive moisturiser, my face did indeed began to fissure, earthquake and threaten to fall off. Sigh. It's a good product, no doubt about it, but just not quite enough for my skin. I'm facing facts and accepting that there'll be no substitutes from thick, rich creams (oh there's a joke about men in there), oils and balms for me any more.
I frantically went through my stash and I came up with Reponse Jeunesse Climatis, by salon brand Matis, a sister-product to the exfoliator Lynnie wrote about recently.
Well. Well now. This is TERRIFIC.  A 'climatic protective balm for dry skin and cold climates', this is really doing the trick. Yeah, I know it's May. I also know I had to run on my trotters into M&S on Grafton street the other day to get in out of the weather. IT WAS HAILSTONING.
Advertised
So while in previous years I may have turned my nose up at this based on its winter credentials, it's really great for my dry skin. Within a few days it had plumped back out fine lines and flaky patches were banished.  I think this'll suit anyone with a 30-something, arid complexion, but those who are oily will want to steer clear. Lightly scented, I also like the chunky perspex packaging.
Any downside to it? No SPF, but I'm happy to wear a separate product, and price may also be a factor too: you'll lay down €49.20 for it.