 In Ireland, buying pieces that can survive every season is clever and sustainable. And these dresses do just that.
When you're trying your best to do your part for the environment but you love an aul shop, things get complicated. This is a humble but simple solution if you're getting on the sustainability bandwagon (recommended). Buy things you can wear all year long, not just for one season. It makes sense, too, in a country like Ireland where the weather doesn't change too drastically from season to season. These dresses will serve you well through the cold snap, into spring and through to autumn.
See the New Look dress we're wearing for every weekend event this spring.
During the chilly weather, we'll be making like Victoria Beckham and wearing our handy dresses over a polo neck, tights and boots.
Victoria Beckham
Advertised
When the weather gets warmer, we'll wear the dress as is but with a pair of the year's hottest shoe, the white runner. We'll also keep a nice chunky cardigan on hand for every season. We'll need it as much on the 21st of July as this month (probably).
& Other Stories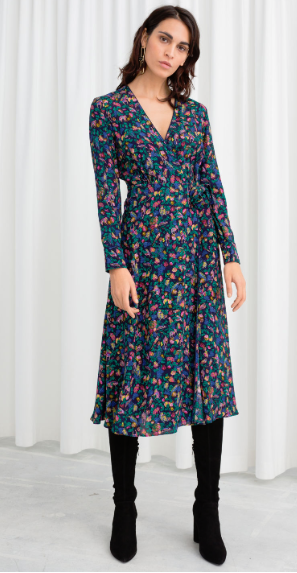 (comes in three more prints)
Zara
Advertised