 Valentine's Day is a popular day for popping the question. Now start planning the ring-viewing party with these new engagement party dresses.
Did you get engaged yesterday, did you?! Or did you get engaged recently, at least? If the answer is yes to either of those questions, hurray! We get to throw a party! Well, you do, but we'll be your helping hand in the style stakes; these engagement party dresses are the best the high street has to offer.
The early days of your engagement are some of the best of your life. You're basking in the glow of love and delight and a little bit of envy. You get to throw an almost impromptu party where you can show off your ring and get a blowdry. It's a really fun party, I promise, but you need something to wear. Luckily, the engagement party dresses we've picked will suit all tastes.
What you wear will depend on the setting of the party, so to make things easier (for myself) I'm going to go ahead and assume you've booked a room/area in a pub or that you're having a shindig at home. If you're doing anything fancier than that, wear a wedding guest dress.
Topshop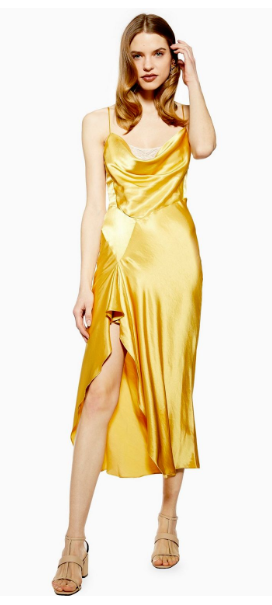 Advertised
Lace Back Satin Slip Dress €76
Zara