 Kate Middleton shoes have got an upgrade - but they're still as wearable as ever
Previously described as being 'nude' I'm calling them Kate Middleton shoes instead, even though they're not entirely the same. I have a problem with the word 'nude' in fashion and beauty terms because it often refers to a shade that complements only white women's skin. (Kindof.) Christian Louboutin launched a line of shoes last year with seven shades of nude, not just the one generic so-called 'flesh-coloured' hue. He flicked a switch on the western world's mental block on the context of the word, and now I think most people realise that one nude shade does not suit all.
The Kate Middleton 'nude shoes' suit me because I have a very pale complexion but with a pink tinge. Like a baby mouse, someone once told me (although I was sunburned at the time). So the shade I'm talking about isn't as much beige as light pink. The style I'm talking about isn't the Middleton special of slightly rounded toe and slight platform with a not-too-high heel. It's the high, pointed power court shoe that goes with everything. It's the curly blow dry of the shoe world. Instant polish, instant attitude. It's curious that such an admittedly basic shoe can evoke such a reaction.
A suede effect is a popular texture for this shoe, but a lacquered or patent finish will last longer and look more expensive.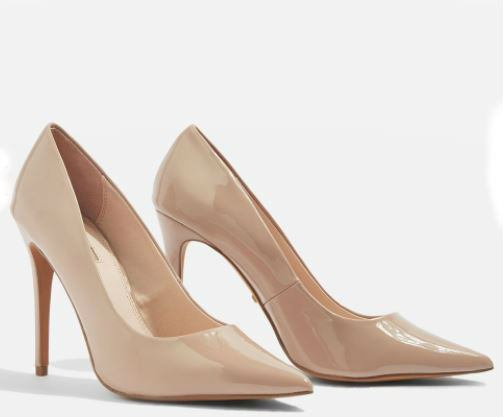 Advertised
It's just a handy pair to have in your shoe collection, too, because it's so versatile. It goes with any colour, even red (try it), and you can wear it as easily to work as to cocktails.
I bought these ones yesterday. On sale!