 I'm at the stage where my friends are having families and it's the most lovely thing to celebrate. With the abundance of pregnancies in my group, I'm always asked to give recommendations for brands that have maternity ranges that are stylish and well made. Not all high street shops carry maternity wear which is a real shame. But the ones that do are doing it well.
Now I'm not qualified to talk about fit or where clothes should sit around the bump, having not had a baba myself. So, I've done some research. 
My very best friend is due her little one in June and says that long vests are her "go-to" as they cover the bump comfortably. "It Doesn't matter then if you are wearing jeans or leggings, but the vests are super comfy and supportive over bump" she tells me over What's App. So it's basics that can be the best clothing option. She also swears that maternity jeans are the best investment for styling lots of different looks. As for dresses, she says she can take or leave them. Then again, you never know when you might need to wear one.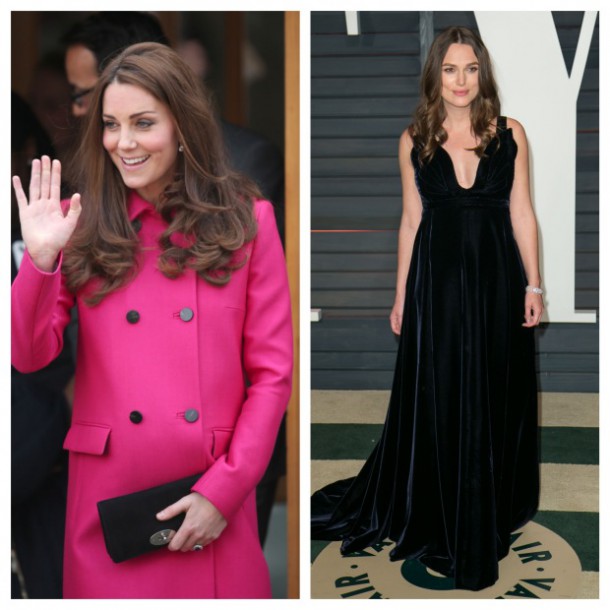 In celeb land there have been some very stylish mamas to be. My personal favourite, Keira Knightley took to the red carpet for awards season in plenty of Chanel. But topping the list was the velvet gown she wore to the Vanity Fair Oscar Party back in February. The v-neck coupled with the empire line was the perfect silhouette for her bump. She has seemed to opt for more fluid looks with plenty of billowing fabric. Whereas, our favourite Princess, Kate Middleton prefers more structure in her maternity wear and has favoured double-breasted coats worn with midi dresses with a defined waistline. She also loves a little colour and her pink coat was my pick of looks so far. 
If you are mit baybay, then let me share some of the best bits and pieces I have found to meet your stylish needs.
Advertised
ASOS have one of the best maternity ranges I came across. They stock a huge range of jeans in every cut that you could want, all with either a full maternity band or a band that sits under your bump, built into each pair, for less than €50. New Look have an equally good selection, and I particularly liked the softness of the fabric of their skinny leg jeans. As they are a good piece to have for casual and dressy wear, it's a good idea to invest in a pair that wash well and don't fade. 
For tops, especially vests, which my friend is a fan of, Topshop have a range of cotton basics, long and short sleeves, as well as more dressy tops for evening time. Most of the styles are a nice length to go over the bump for your comfort and the quality of the fabric is good for the price. Their online shop is a great place to put together a whole look as well, if you don't want to go to the shops. 
If you happen to have an occasion coming up, like a summer wedding (s) then the high summer maternity range at ASOS is the best range out there. The cuts are great, and I particularly love how the "top/skirt" dress is a popular style online (basically it's a dress that looks like it's a top and a skirt). The lengths are mostly to the knee or slightly below and don't worry, there is plenty of colour and prints to keep the pieces nice and trendy. 
Advertised
So ladies with babies, or those whose due date is fast approaching, what do you recommend for comfort and style while pregnant? Have you a favourite piece that you wore all the time? Any style tips to share with mums to be?