 Every mother is a 'cool mom', but if you don't believe that's you, just get these ankle boots.
When you become a mother, you change. But you don't automatically become the personification of a sensible short haircut. These boots are for the cool mom - that's you.
Now, I'm not a mother, but I have a lot of mother friends. They are all extremely cool people and though some of them are more into fashion than others, they all agree that style comes second fiddle to those little rascals causing them to drop out of brunch the whole time. Little scallywags!
See the street style outfit we're stealing for brunch.
At the same time, when they do get out of the house, many of my friends with kids like to look as put together as they can. (But no judgement for going out in pyjamas or the same pair of jeans you've been wearing for two weeks either.) When I saw these boots, I thought of them. These are the kind of boots Sharon Horgan - the coolest mom I wish I knew - would wear. Did you know her wardrobe on Catastrophe is basically her own clothes? There you go, now. (And if you haven't watched that series yet, get on it!)
Mango
Advertised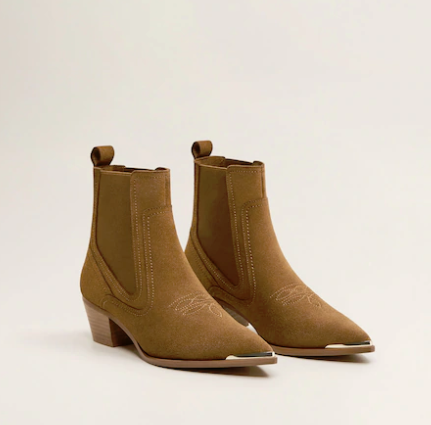 Leather Cowboy Ankle Boots €59.99
There are so many good things about these boots. The price is good; the style is good. The height of the heel is just right. I love that you can throw these on with anything and they'll go with it. Wear with skirts, jeans, even leggings. You can literally just pull them on and go. The colour is good, too. Isn't it refreshing that they're not, for once, black?
Of course, these boots aren't just for cool moms. They're for cool everybodies! We can see ourselves living in them this summer. Do you think they're the handiest pairs of boots you'll find this season?