 Love it or loathe it, this boot is going to be on the cool kids' hooves in the coming months (and we bet you'll be sold)
Hurrah! I can add trend forecaster to my CV now. I called it in October last year and now it's pretty much official: the cowboy boot is going to be huge this year. It's this season's 'ugly shoe' although don't tell anyone who lives on a ranch or like to go line dancing on the weekend we said that.
Isabel Marant began injecting some yee-haw into her collections way back in 2006. Everyone had a pair of Marant inspired ankle boots at one stage or another. Lookalikes are still on sale in Penneys. But more recently, Balenciaga and Céline strapped on the saddle and jumped on that horse. Even Calvin Klein is in on the action, including it in his AW17 collection.
Country and Western music is bigger than ever, which could be a factor behind interest in the boot style. Nashville (the tv show) was huge, too. And cowboy boots can be damn flattering on a bare leg or over skinnies. Just ask Ariel from Footloose.
Selena Gomez attended the Coach AW18 show at New York Fashion Week last week, wearing the 2018 way to style them.
Advertised
Feminine dresses and tough boots isn't a new idea, but this iteration feels fresh. You'll have to visit Texas or Missouri or the like to pick up a genuine pair, which would be way better than the designer versions that will be all over Brown Thomas soon. Flying to the Wild West to buy cowboy boots would probably cost as much as something from the BT shoe section, though, so we'll settle for the high street once they come marching in.
Just remember, the trend is proper cowboy boots, not 'Western' or 'Buckle' - although they're close seconds for sure.
This Topshop pair will tide you over if you want to start wearing next season's huge trend today.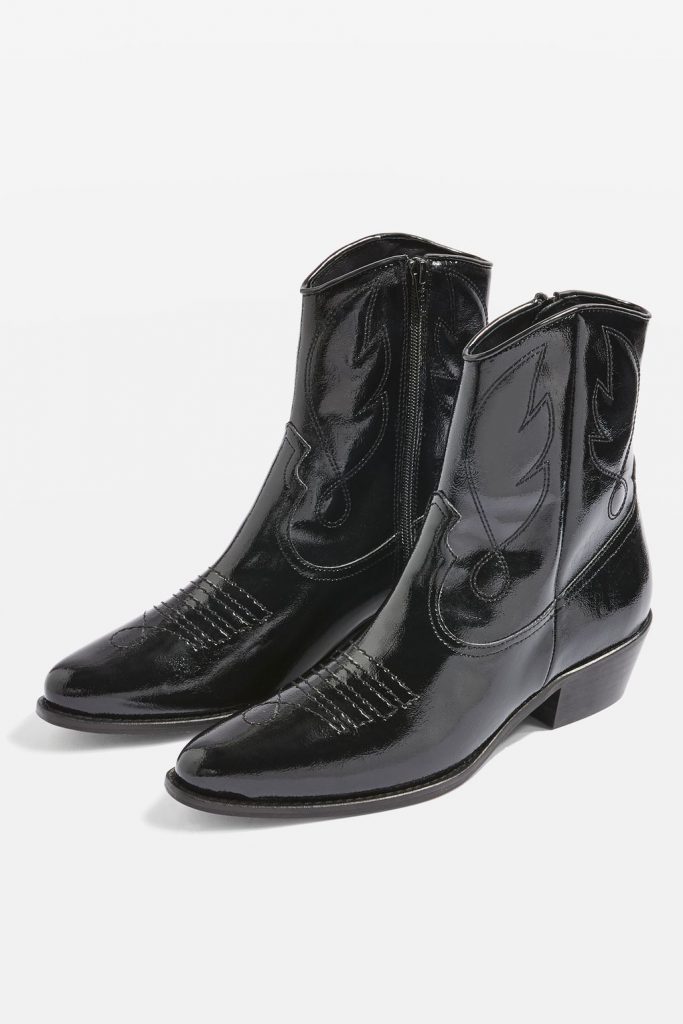 Advertised
Topshop Arizona Western Boots €89