 I don't have a date. I don't have a venue. I don't even know how many people to invite to this wedding. But - I might have a dress.
As some of you may have realised by now, I have not been following the, let's say, traditional wedding planning route. Some kind person who doesn't know me very well sent me a link to a wedding planning check list that starts at 12 months to go. We want to get married this year (we got engaged last November) so I don't think I can even look at it without feeling panic. So, we'll just continue to plod along and hope that somehow it all just . . . comes together.
Anyway, back to the dress. Last weekend, I got my bridesmaids together (who, as it happens, have given me cut off dates to get things done. I should have maids for all aspects of my life), so that everyone could get to know each other better and drink lots of wine. Like how I hate going for walks unless I'm walking to somewhere, we needed a purpose, so my sister booked us into a couple of wedding dress shops in Galway to have a bit of a browse.
Readers, I now have three dresses in mind.
I had already tried something on 'for fun' in a place in Dublin, and it ended up being a contender, and now I have two more from a lovely bridal shop in Galway. Can you have the dress before anything else? I think so. But more about my dress (and where I got it) when I actually buy it.
I knew from the start that I wasn't the wedding wedding dress kind of person. I don't feel comfortable in loads of heavy material, and I just don't think they suit me. I felt weird in the "traditional" gowns that so many women dream of wearing. It's a style thing, of course, and some women long for the chance to wear the hell out of a big, beautiful gown, but not me. I'm not alone. There's been a little movement to stray away from the classic wedding style; I already discussed the new wave of engagement rings in a previous entry.
Women don't even necessarily have to look in bridal dress shops anymore; there are many routes to take. As well as that, not as many women are as willing to part with a huge chunk of their wedding fund for a dress they'll wear only once and women are not as willing to spend an insane amount of money full stop.
These alternative dresses for weddings could be just the ticket for a bride on a budget who is looking for something a little different.
Self-Portrait 

Lace Maxi Dress 

€445.00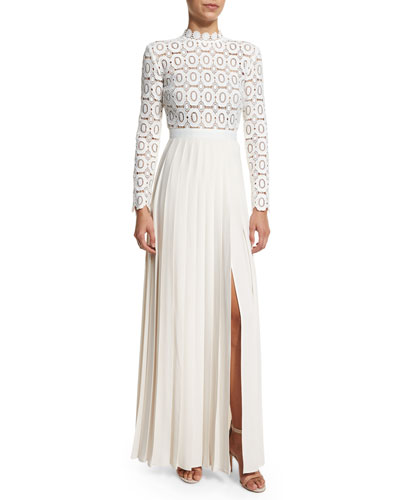 Self-Portrait is getting so popular. There are cut out and lace dupes cropping up everywhere. We thought this dress would be so cool for a chilled out urban wedding or for a relaxed destination wedding. I tried it on in Brown Thomas at the weekend (except the version they have in there at the moment has a red skirt) and would have loved if it suited me but, alas, it did not. Not for women with short torsos, like me.
Self-Portrait Lace Column Dress  €430.00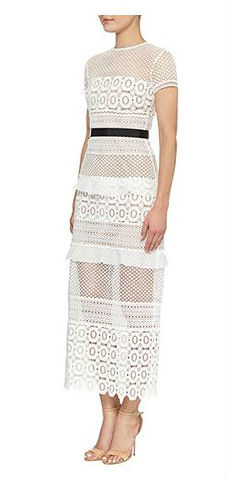 Can't you imagine the bride wearing this would be the coolest one ever? This wedding would be in the height of summer and would probably take place in an art gallery. I spotted it in Brown Thomas.
Needle & Thread Floral Embellished Tulle Gown €315.00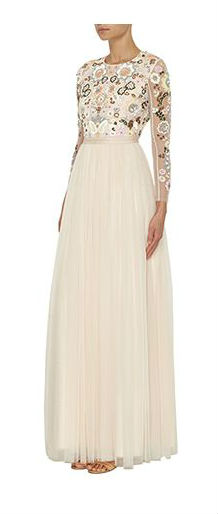 Advertised
This was another I tried on (again, in Brown Thomas) and it brought me back to my ballet days. It is a romantic and floaty and perfect for the bohemian bride who would rather not wear white.
ASOS Body Frock Brides Daisy Dress 

€330.97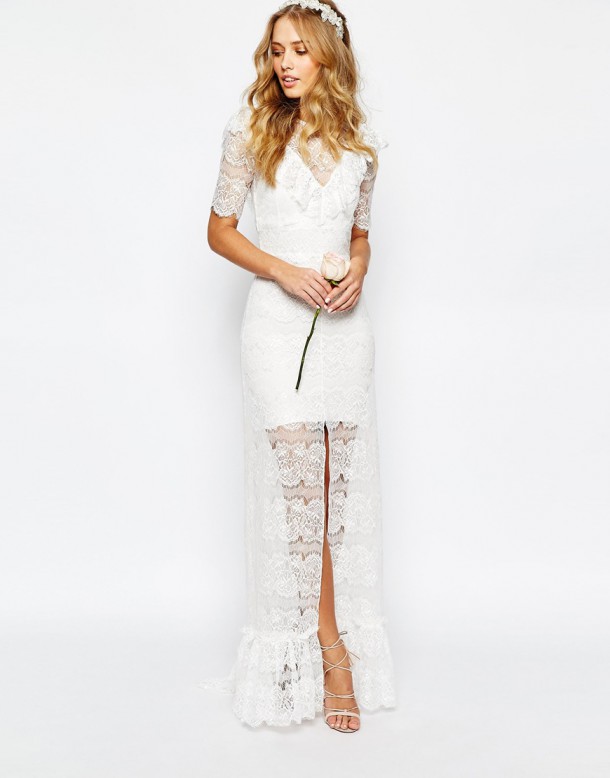 It's another boho style, but the traditional bride element is still there. It's very "of the time" which means it may date, but if you look fabulous on the day, who cares?
Ghost Cassidy Dress £225.00

Ghost has a huge range of nice price wedding style dresses, and they have a Dye-To-Order service that they suggest could be for your bridesmaid dresses, but I think it could work just as well for you.
Ben De Lisi Occasion

Ivory 'Julianne' wedding dress at Debenhams  €420.00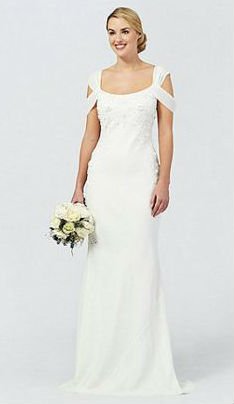 Debenhams is often a stop off point for bridesmaid dresses, but they do wedding gowns too, and they're very nice indeed. They are not as unconventional as the others, but the prices are very reasonable. I liked this one for its sleeves; what could be a little plain has an interesting element now.
Folkster Tea Dress 

€109.00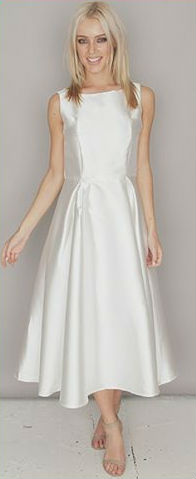 Folkster has a bridal department, and the gowns look divine, but this one above isn't from the bridal collection. I just thought is was cool. My cousin got her wedding dress in Folkster last year, not in the bridal section. She just found a dress off the rack in the Dublin store, loved it, and bought it. And looked absolutely gorgeous.
This year, lace is everywhere, and I have seen some lovely summery mini and midi dresses that would also work well for a low-key summer wedding.
Advertised
If you have already got married, if you are getting married or if you want to some day, what kind of dress have you in mind?