 Who? What? Wear? Saoirse Ronan in France for the Gucci Cruise '19 show wearing an exclusive Gucci gúna
I always thought people made an effort to look nice when the sun shines but it turns out that few people make an effort at all. Maybe it's an Irish thing. When the weather is good, we treat it like an occasion, and occasions require dressing up. Over the past few days, Beaut HQ has been awash with fancy duds we were saving for a time like this. When there's the possibility of going for a drink or two al fresco after work, you must dress accordingly.
This sartorial phenomenon doesn't apply to the rest of the world, where good weather in summer is a given. That's why it has been very hard to find style inspiration. But who stepped out of the shade for a sec to give us a very wearable outfit idea? Only Saoirse Ronan, looking her pale and beautiful self in a Gucci dress.
Saoirse's dress is so exclusive not even people who could afford to spend over a grand for a mini dress can get their hands on it. The print was seen at the mens' show earlier this year but seems to not exist for women. That's why we haven't found an exact copy on the high street, but we have found something that really resembles the look.
Advertised
Littlewoods Ireland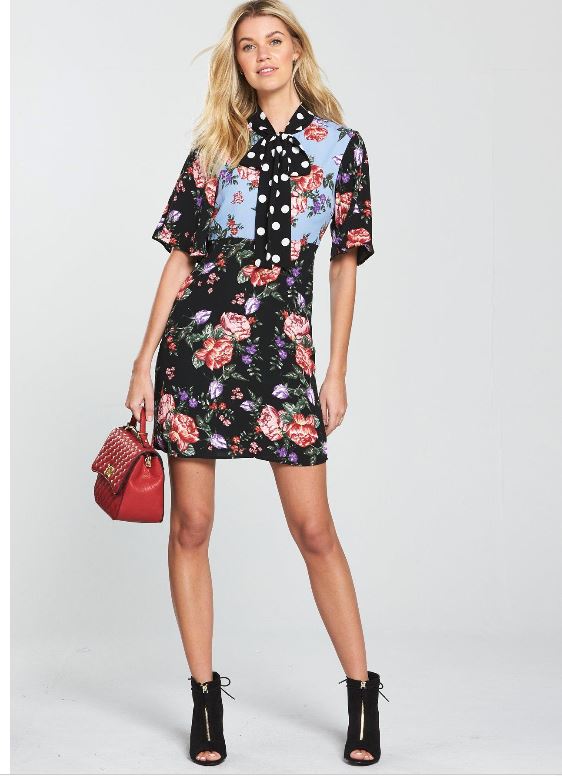 V by Very Mixed Print Bow Tie Tunic Dress €50
From the length to the multi-patterns to the sleeve-style and the collar (kind of), this isn't a twin, but it's certainly a sister. And it is thousands of times cheaper than Saoirse's Gucci number.
I like a straight tunic style because it can be forgiving during BBQ season. Wear with loafers to the office, runners on the weekend and heels when it's cocktail hour. Summer = sorted.
Advertised
Do you like Saoirse's style? Are you into the multi-pattern thing?