 When you're style-conscious, sensible work shoes are often off your radar. These ones, though, might be worth a notice.
I read an article recently about an LA-born fashion editor who moved to New York two years ago. In it, she remarked that she had to change her work wardrobe in some surprising ways. She had barely owned a coat - living in California you only really need a light jacket at most - but now she has a wardrobe full of them. She also owns a load of tote bags, for carrying everything around with her from home to work and subway rides in between. The majority of her work clothes have to be able to transition from day to night - in LA; it was easier to swing home before an event. Her shoe of choice is the runner - her heels go in the tote bag.
Readers - this is how I dress for work. Who would have thought that Dublin work life is so similar to the New York (office worker) state of mind? I come to work with two bags. One is big enough for my spare shoes, makeup and beauty products to take home and try. The other is my daily life bag, for phone, wallet, keys, more makeup, an umbrella, etc. OK, yes, it's just as big as my work tote, but I'm not going to start bringing a rucksack to work. Not chic. The one thing I'm not totally ok with is the whole Working Girl runners with work clothes thing. I mean I'll do it, but I'm not happy about it. I've noticed, though, that another footwear trend from the late '80s / early '90s has quietly made its way back onto commuters' feet - the pinnacle of sensible work shoes, loafers with a lil tassel.
Gucci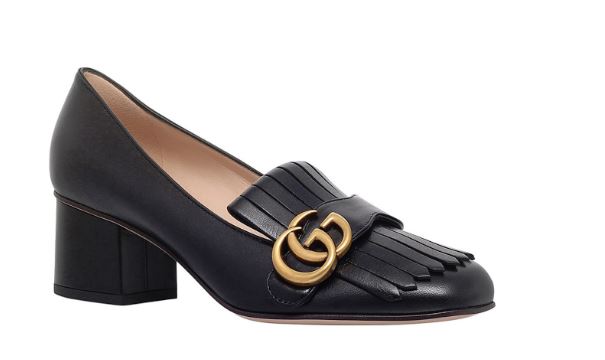 The shoe's history began in the 1930's and became known as a 'collegiate' shoe, as university-going young men and women needed a casual shoe to run around in (sneakers had yet to be invented). It hasn't lost its preppy reputation, which means it has gone in and out of fashion as its 'coolness' ebbs and flows. It's not cool. But it can look chic. And it's perfect for work. Gucci leads the loafer way - the model above is its newest incarnation (
which I wrote about almost exactly a year ago
). But for ultimate comfort, go flat. And go high street.
Advertised
New Look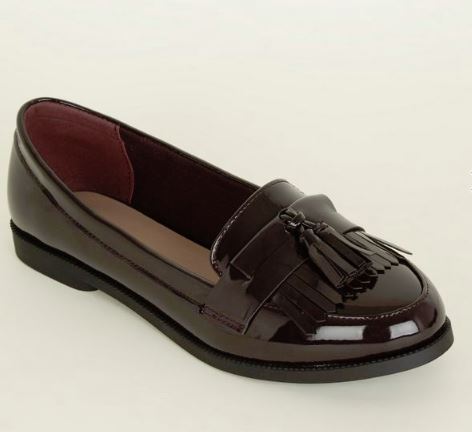 Dark Red Patent Fringe Front Loafers €32.99
They are a bit school-ish, I will admit. But embrace it! The Clueless tartan two-piece look is in this season, and this type of show will go perfectly. You know what else you can wear these sensible work shoes with? Black tights. Yes, they're back in my good books, and I won't complain about them again until next summer.
They look great with ankle length trousers, too - cigarette styles are best. And if you're feeling really nineties, wear them at the weekend with jeans and a knit.
Do you like the loafer style? Would you wear it to work? Do you live the 'New York' commuter life, too?