 The silk skirt is everywhere. It's jumped from Instagram to real life and everyone's wearing it. If you're already over it, try this skirt instead.
I still like it and I'm going to wear the sh!t out of mine (unlike my leopard number that I wore once). But as nice as it is, it's getting to be as common a look as skinny jeans and ankle boots. You can style it up or down, but the silk skirt will remain mainstream. I'm not saying this alternative is not mainstream - I mean, it's on the high street - but it's just that little bit different from its silk cousin. It's also just as versatile.
This version, from & Other Stories comes in three colours. For the coming season, we are LOVING the yellow.
& Other Stories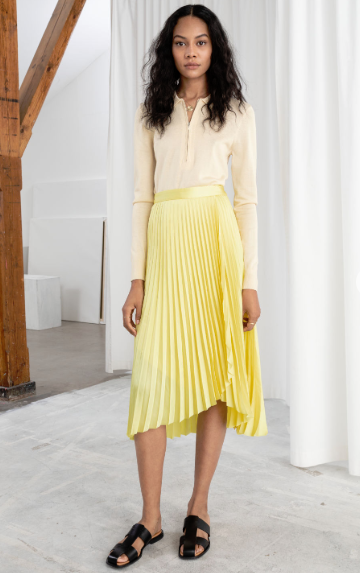 The pleats and "laser cut raw edge" make this a universally flattering style, and you know that wrap detail suits us all. Find a top that matches (actually, that's our next mission), and you've got yourself a very fetching wedding guest outfit. Strappy sandals, a good tan and off you go.
This next shade is going to be very popular this season. Despite the wintery tone of the & Other Stories styling, imagine it with a white tank top (they're also going to be popular) and flat city sandals. Trés chic without trying. It clearly looks great with the Western style boots you might have bought in the January sales. That includes boots in white.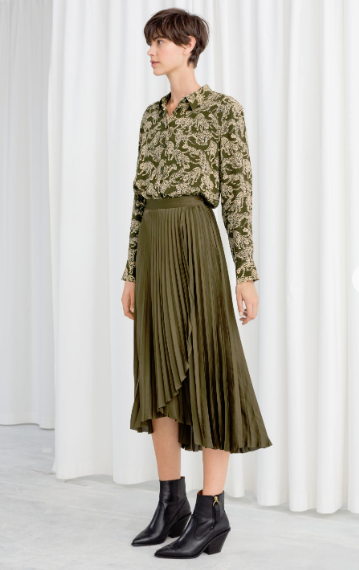 Advertised
The third shade is the crowdpleaser, in black. Wear it all year round, for all occasions including work.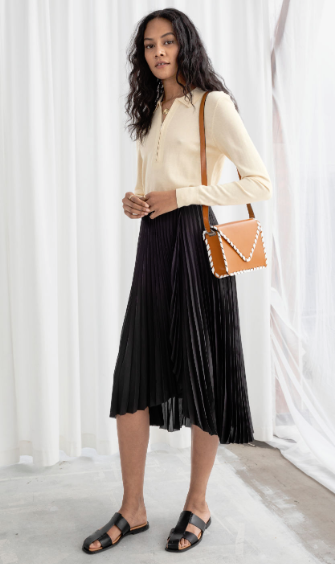 So it's not too far a look away from the silk skirt but it's different enough. What shade's your favourite? Or will you be sticking with silky?
Advertised