 This wedding guest dress is new in River Island. It's a sigh a relief in material form.
If the stormy weather has taught us anything, it's that winter is on its way. It also taught me not to wear white plimsolls when a yellow warning is in place, but that's a different story. Up until last week, the air still had a hint of summer, and although it's not exactly Baltic out there, it's definitely autumn.
The thing about autumn in Ireland, though, is that some days can surprise you. I went to a wedding last October in a fur coat, and the temperature was higher than some days in summer. If you've got an event on this during weather limbo, it's a good idea to layer. Wear a 'summer' dress, but make sure you have a matching coat. Water-proof, if possible. A hard ask, tbh.
The trouble with wearing a summery dress in autumn is that it may look, well, too summery. That's why this gúna caught our eye. The cobalt blue shade is all-season friendly. The two-in one style - a pencil skirt AND a full lace over skirt makes it flattering and unique.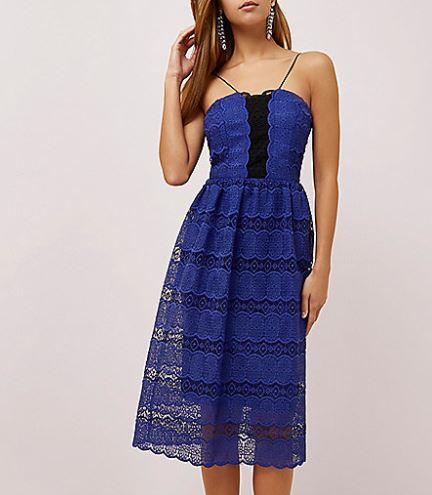 Advertised
It will draw comparisons to the infamous Self-Portrait Azalea dress, but it's different enough to not look like a cheap knock-off (and yes, I know, €107 isn't all that cheap).
It's not just for wedding guests, of course. We're going to the Best in Beautie event this Wednesday and we have nothing to wear...