 The world has been taken over with talk of Fifty Shades of Grey. Yes it looks good, yes we've read the books more than once, and ok fiiiiine, we might have an aul crush on Jamie Dornan. And while the fantasy world of Christian and Ana is all well and good, with its raunchy scenes, fast cars and expensive lingerie, in reality, I don't have the budget to spend on La Perla for my everyday undergarments. I wish I did, but sadly no.
The reality is that our underwear is the foundation of all our style. It needs to fit, camouflage and, most importantly, last. No one has the budget to replace undies at the same speed as Ana. And having styled several lingerie shows this year, I have learned oodles about what we should look for in our choice of underwear. Thankfully, the basic requirements are now accompanied by style, which means that we no longer have to compromise on trends.
So, we might always try to be on trend on the outside, but what goes on underneath?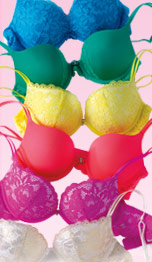 I've mentioned fit, and I will mention it again and specifically in relation to bras. Each time we change the brand of our bras, we should be measured to ensure we choose the correct size. Brand sizes vary, infinitesimally, but just a millimetre out can effect your comfort.
There are so many highly qualified bra fitters in the country, that we really have no excuse to wear something ill-fitting. On my last fitting, I learned that there are two measurements that must be taken; the under bust and the fullest part of the bust. To get your cup size, you subtract the under measurement from the fullest measurement (one inch is one cup size). You can easily try this at home, but it's always good to double check with a professional fitting. When you try on your bra you need to ensure it's snug and that the style suits the shape of your breasts.
And to air all my laundry, I know that a balcony bra suits me better (don't tell anyone that).
Advertised
On the lower half, I have a love/hate (mostly hate) relationship with thongs and g-strings. I find them uncomfortable and incredibly irritating. So, me? I'm a granny pants kind of girl and I'm not ashamed to say it! High-waisted pants are comfortable and do give that  "suction" that we like from time to time in our little black dress. Underneath my wedding dress, I wore what can only be described as skin-coloured cycling shorts. Attractive, no?
When it comes to colour, I stay with the classics: black, white and nude for the everyday, but colours like pink and navy are a popular choice from the high street at the moment. Debenhams have a huge range of shades like pink and lilac at the moment from brands like Ted Baker and Floozie by Frost French.
Watch lace and other textures as it has a habit of showing through even the thickest of fabrics so when looking for pieces for underneath a particular dress, shapewear is always a safe bet. M&S have a great range of own brand shapewear which is comfortable, very well made and competitively priced too.
The main thing to bear in mind with shapewear is sizing. It needs to be firm, but not too tight. I've noticed I need to go down a size in certain brands like Maidenform and Scandal, so check with the fitter before making the investment.
Advertised
What kind of underwear do you like? Are you granny pants or thongs? And have you any pet hates when it comes to bras and knickers?