 This skirt won't be for everyone but it IS for the style chameleon who collects forever pieces.
Let me list the trendiest trends of 2019: leopard print, '80s, ruffles 'n' florals, neon. Sound familiar? It should. The 2019 trends are a continuation of the popular styles, prints and colours we've lusted after over the past few years. It's good news for our bank balances because we can wear the pieces we bought last year and the year before that over and over again. And it's good news for our souls, because of the very same reason.
When researching last week's 21 pieces to buy in the sales piece, I came across this skirt. I wanted to include it, but I wondered would it stand the test of time. Was it something you bought for the sake of it only to never even wear it? If you are someone who likes bright clothes, it would certainly be a forever piece. If you love festivals, it's the same story. But if you're a fashion magpie with a soft spot for the trends, perhaps it wouldn't be all that smart a buy. Except that it is!
The skirt is acid yellow (perfect for clubbing or all the '90s-themed birthdays that will soon be thrown and didn't I mention the neon trend huge this season?) but it's leather. It's great quality and fully lined. The downside is it's not a total bargain basement price, but it's cheaper than it was originally (€70 off!) and that's never a bad thing.
& Other Stories
Advertised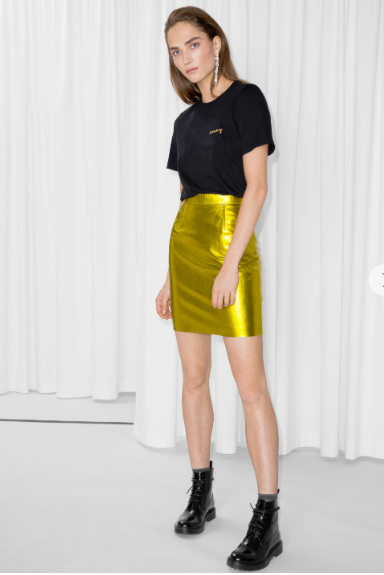 If you're unsure of how to style it, and want to tone down the whole bright thing, wear with black like the lass above. For winter, I'll be wearing it with my black oversize jumper, black tights and black boots, high sometimes, low bikers for the other times.
What do you think? Are you in on the neon trend this season?