 Because it's hard work even thinking about the commute, you need a January work uniform (or two) to make life that little bit easier this month
Today I stepped on a loose pavement stone and got street juice all over my leg. So that's it; I'm wearing black bottoms for the rest of the month. I have in fact been wearing black bottoms since the office opened earlier this week. I've worn a variation of the same ensemble: black tights, black chunky boots, a mini skirt and a jumper. See, I can wear outfits most working girls reserve for the weekend to work because I'm lucky enough to work in a pretty casual office environment.
I'd like to think that if I didn't wear my weekend clothes every day, I'd dress like Olivia Palermo. She dresses for the cameras, obviously, but even so, I doubt she goes around in a €9 leather look from H&M, fake Doc Martens and her husband's woolly jumper (what I wore today) when she's in work mode.
Olivia has a couple of go-to 'professional' ensembles that alternated would make up an easy, breezy and - most importantly - cosy work uniform.
Outfit One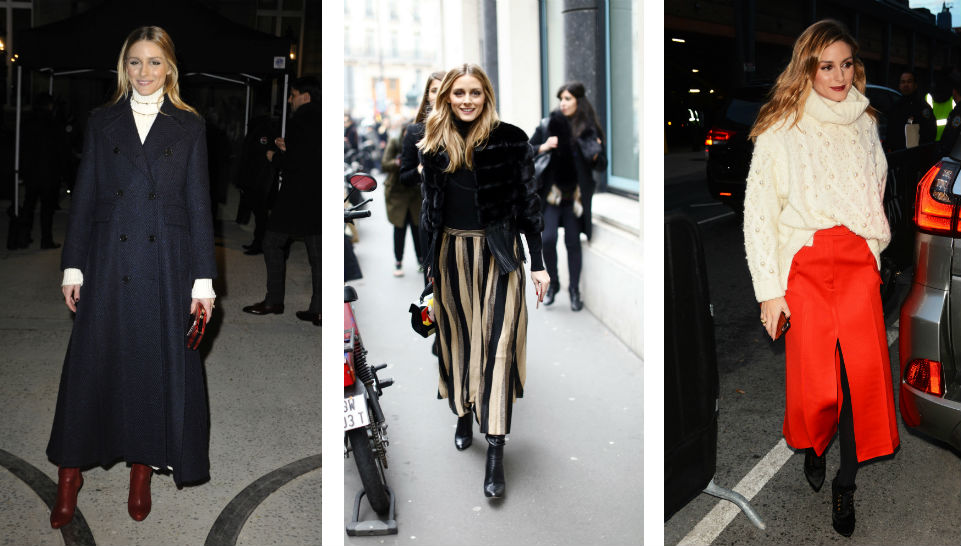 Photos: WENN.com and (third pic) Patricia Schlein
Midi skirt, polo neck, boots. Three simple items make one chic ensemble.
Outfit Two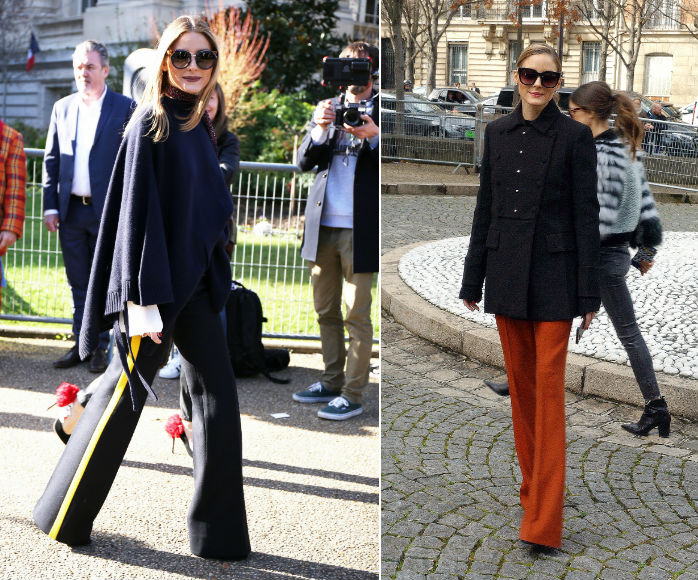 Advertised
Photos: Wenn.com 
Wide-legged trousers, a complementary top, and don't forget the sunnies.
Both clothes combinations are work friendly because they're classic, flattering and stylish. But they're also comfortable and easy to put together. Wide-legged trousers may seem the only problematic piece in the picture, but they're actually a capsule wardrobe staple so wearing them even when they're not 'in fashion' will not decrease your style status.
If you're wondering what to wear with the trousers under the coat, we'd go for a simple polo neck. Olivia loves them in all their forms, chunky to skinny, and they're just handy pieces to own. And they keep your neck warm all day long. We love how Olivia wears two gold chains over her cream roll neck.
I'm guessing you could cobble the looks together from items you already own, but if you feel like a little retail therapy (who doesn't in Joyless January?), we've found these pieces on the high street. And they're all on sale!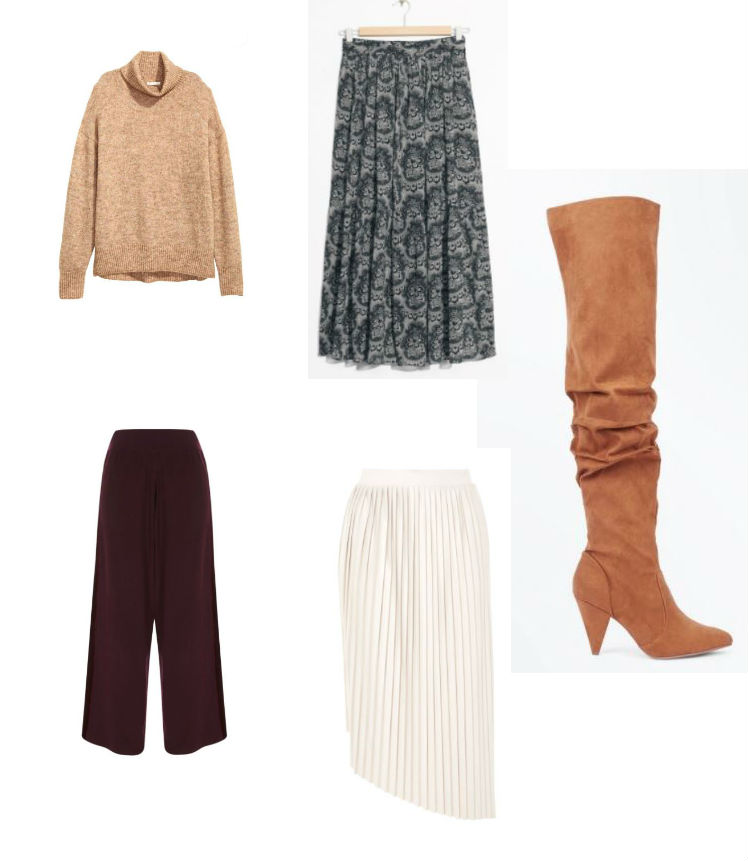 H&M mohair-blend polo-neck jumper €34.99 / & Other Stories tapestry print skirt €48 /
New Look tan suedette slouch over-the-knee boots €21 / Topshop asymmetric pleated midi skirt €20 /
River Island burgundy wide leg velvet panel knit trousers €30
Advertised
Featured Image: Wenn.com