 The question of the day is, why wouldn't you wear a Penneys dress to a wedding?
Last year, I wrote about a Penneys dress I wore to a wedding. It cost €16, I got loads of compliments and this year I've been wearing it regularly to drinks, brunch, even work. The style is still popular - a printed mesh overlay with a slip underneath. It's a style that's still available everywhere.
At that wedding, a woman sitting in front of me in the church was wearing a similar dress, but it clearly cost a pretty penny. You could tell she spent a lot of money on something with added sequins and glittery bits. But I wasn't ashamed of my Penneys number, and not just because I've been to so many weddings over the past five years I've stopped caring. I do care about what I wear to weddings. But I don't feel the need to spend half my paycheck on something I'll only wear a handful of times.
Cheap - but cheerful?
When my personal wedding boom started, I would start planning my outfit as soon as the couple announced their engagement. And then have to re-plan it when they decided on a summer wedding instead of the winter one I was banking on. Most of my wedding guest dresses come from ASOS and are perfectly suitable for that one occasion they were worn for, but I couldn't help but feel a little deflated when other guests would show up with dresses bought in Brown Thomas and boutiques. I'm lucky to be able to spend hours standing in a pair of notoriously uncomfortable but very pretty Zara shoes, but I'd still wish they were Louboutins or even Kurt Geigers when I'd see the label on my friends' shoes after they'd been discarded to the sidelines of the dancefloor.
This kind of thinking is, of course, very silly. As the weddings went on (and on), I realised that it's the way you wear your cheapo outfit that counts. Wear something with confidence and pride and the price tag becomes irrelevant.
One rule
Advertised
But don't forget the one unbreakable rule when wearing a budget dress to a wedding - make sure it fits. A dress that suits you like a glove is worth a thousand likes on Instagram. You may end up paying a bit more, but get a Penneys dress altered by a pro to change the sleeves or lift the hem or hug your waist a bit tighter and you have a truly original look.
If you decide to wear high street shoes, wear them in, wear them in, wear them in. And that's all I have to say on that matter.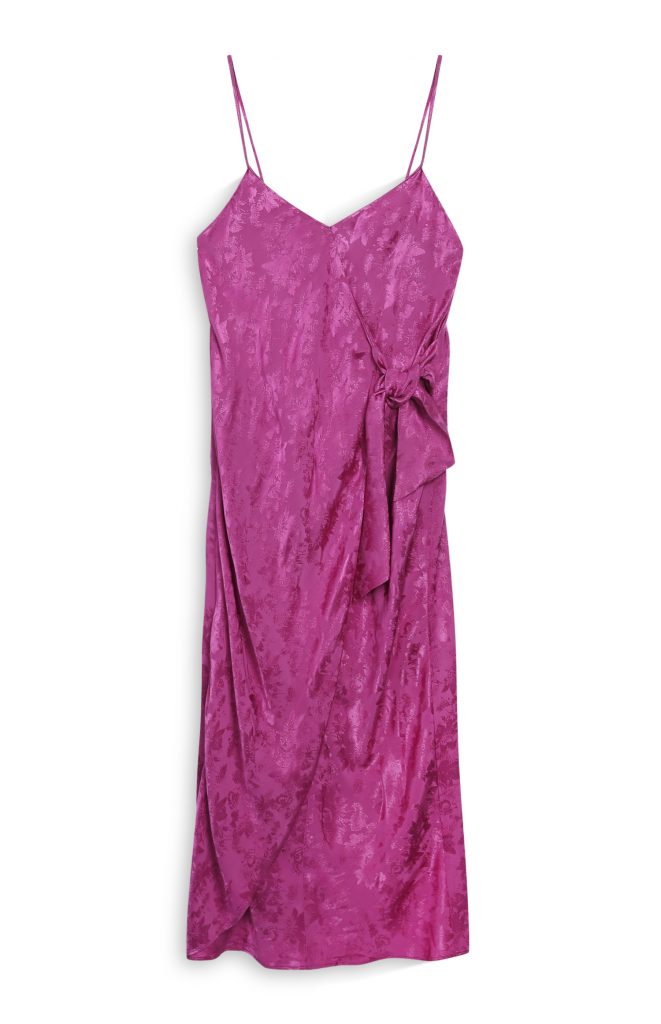 Penneys €20
I am wearing my new Penneys dress to a wedding in a couple of weeks with shoes, hat, and bag in the exact same shade. Yes, I'll look like a modern Violet Beauregarde - but that's the point.
For another wedding, I'll be wearing this dress from M&S that I'm obsessed with. And it's on sale!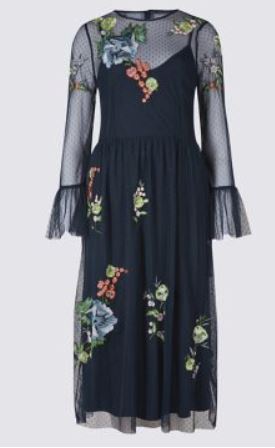 Advertised
M&S Collection Embroidered Mesh Long Sleeve Midi Dress €54 was €95
Have you ever worn a dress that costs a week's worth of coffee to a wedding? Have you worn one that cost a year's worth of joe?