 Sometimes, a gal just wants to wear black, even when it's summer and everyone else is in white or pastels. What you need is a black dress that looks summery but one that remains in your comfort zone.
Wednesday Addams at summer camp. That's what I look like most days. Pale, sulky and wearing a series of clothes best suited for winter - except the sleeves are cut off. When you're a black wearer, it's hard to spend money on any other colour. You'll wonder if you'll ever wear it more than once, and the truth is, you probably won't.
Black is not a summery colour. Full stop. But it can look in place in summer if it's boardshorts with a surfer dude tank-top and you wear it with a straw hat and Havaianas. Just kidding! A black dress is totally summer friendly, as long as you don't wear it with a fur coat and boots. You can wear it with black accessories if you like, but I feel more comfortable, if I'm honest, with a little splash of colour. I bought a pair of bright pink high heel sandals in the Zara sale yesterday that have sorted out every black outfit I wear.
This dress from & Other Stories is going to be my next buy. It's sleeveless but mid-length which means I can keep fake tanning to a minimum. It's 100% Mulberry Silk, which makes it more than just a seasonal buy. You can wear it with flats - sandals or runners - and I'll be sticking on those pink shoes when it's time for dinner and dancing.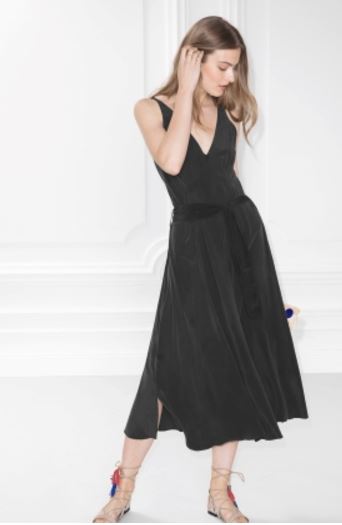 Advertised
You can always count on & Other Stories to have chic black options no matter what time of year. It knows its audience. Here's another black dress that is gorgeous for a night on the tiles, but I'd wear it to a daytime event, too, with runners.