 This dress by New Look costs €30, comes in two colours and you will be able to wear it from now till the end of the year.
Yes, I mentioned the C-word and it's only July. BUT, I'm making a good point that warrants it. I have found one dress in two colours that you can start wearing now, in the middle of summer, and continue to wear all through autumn. If this Christmas is anything like the last few we've had, it will be mild enough to wear then, too.
My current sartorial obsession is buttons. Skirt with buttons and dresses with buttons to be precise. It's the '90s, 'French Girl', look, casual but chic. The type of pieces that make you look like you've made an effort when you've just picked it off the floor from the day before.
This dress from New Look hits all the right marks. The mustard shade is very now - everyone is wearing yellow - and it's just as suitable for summer months as it is in its natural season, autumn. It's quite tight, but it's still flattering on most figures (even those with hip dips), especially thanks to the wrap front. Because I won't rave about a dress if it doesn't, this dress suits multiple occasions, and most certainly can be worn to work.
New Look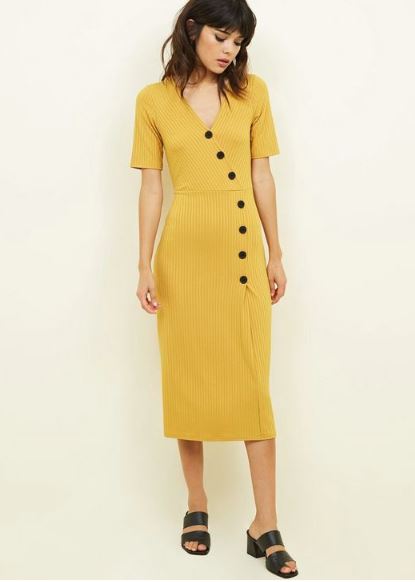 Advertised
New Look Mustard Ribbed Button Wrap Front Midi Dress €29.99
I did mention that it comes in two colours, which will greatly please people who just can't do any shade of yellow. It's a rustic red, which is a typical and gorgeous autumnal colour, but I think you can totally get away with it in summer too. Wear with sandals and a straw bag, and you're set.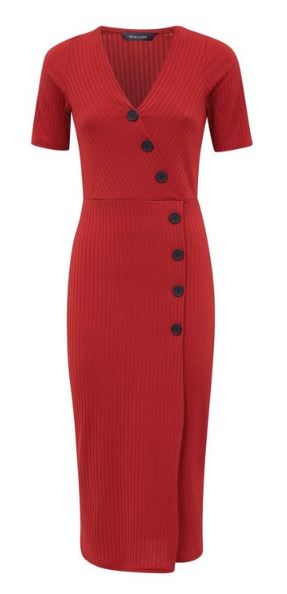 New Look Red Ribbed Button Wrap Front Midi Dress €29.99
Do you have a dress that you wear every season of the year? What do you think of the button-down style?