 I love skinny jeans. In fact, I love them so much I have fourteen pairs. But this season, I have deviated from my loyalties and get me a pair of bootcut jeans simply because the shape of the early naughties is back.
Honestly, they are a far more flattering shape than skinny, and in terms of body shape, they can be incredibly fabulous once you style them with the right length and style of tops and shoes. Plus, they have the power to elongate and we never say no to longer legs.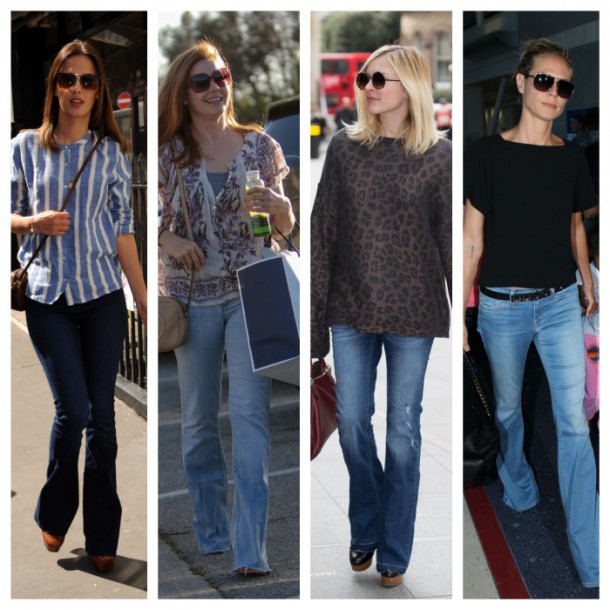 Celeb land has gone wild for the bootcut jean and the more pronounced flare. From celebrity research to date (ahem) it seems the casual look is the more preferred. And the key is how you structure the look.
As the jeans look well a little longer and with a heel, then the top half of you needs to be in proportion so that means avoiding tops and jackets that are too long. So let's see how we can do this shall we? Our jeans pick are a great bargain from New Look!
Ways to Wear 1: The Seventies Chick
Advertised
We've talked at length about trends and the seventies being a key one. Prints are an easy breezy way to style jeans in the seventies way of dressing. The key tip is, in order to keep the length and shape of the jeans, is to wear a top whose longest length is to the seam of the pockets.
Any longer and you loose the silhouette made my the cut of the jeans. Bootleg jeans need a little height and ones with a platform should do just that. Then you can add whatever accessories from the trend that you like. Me, I think it's about fringing and my pick is this one from Penneys! 
Ways to Wear 2: Smarty Pants
Red and blue are a gorgeous combination, and when one of the textures is denim then its smart as well as co-ordinated. Like I said before, length is key, and if you are choosing a jacket the same rules apply. I love this red jacket from Zara (it also comes in black and khaki!) and styled with some monochrome, it's incredibly chic methinks. Now if we just got some sunshine, we'd be sorted. 
So tell us, what's your view on bootcut and flared jeans? Are they easy to style or a pull-your-hair-out fashion disaster! 
Advertised