 Tiny sunglasses are trendy at the moment thanks to models du jour Bella Hadid and pals. But here's why you should reconsider buying a pair if you were tempted.
Bella Hadid is one of the models of the moment, but that really does not mean she has good style. A model's job is to look pretty and wear what she's told to wear. A trend wouldn't become trendy if the Fashion Powers That Be sent ordinary Joe and Jane soaps to work wearing lederhosen and a bag made from cigarettes. Bella Hadid gets away with wearing the most hideous runners ever designed with black ankle socks, pedal pushers and an oversized shell-suit jacket because the Style Illuminati say it's cool. And slowly but surely we believe its cool. That's why I advocate classic styles and fashion that suits you, not the season.
Bella and Kendall and all their friends have been unofficially hawking tiny sunglasses in round or oval shapes for the past year or so. They are coming closer to making it happen (I wonder what treat they get when they complete a Fash Task?) now that Kanye has latched onto the idea and forbidden Kim to wear a sunglass frame more than the size of an old 10 pence coin.
The only person who can pull off tiny sunglasses pic.twitter.com/EfvLiX3nFA

— Mindy Kaling (@mindykaling) May 17, 2018
(And Samuel L. Jackson in his Kangol hat-wearing days.)
There is one circumstance when you should definitely buy them and that's if you already have a bulging collection that you wear with different outfits. They are all over the high street and DO pick up a pair if you really want to be in the moment. But for those of you looking for an all-summer pair or, heaven forbid, an investment, don't buy small sunglasses. As we edge closer to sustainability, a forever pair makes more sense over a hunk of plastic. In short, in the not too distant future, tiny sunglasses are gonna look real silly. They don't protect your eyes. They don't even keep the sun out of your eyes!
If you're going to spend over €50 on a pair of shades, purchase like you'd purchase a pair of prescription sunglasses. Think of the shape of your face, what colours suit you and your clothes style. Even classic styles like aviators or wayfarers don't suit every face - don't buy them just because you think they're cool.
You will have to play around with frames, but here is a quick guide to sunglasses for face shape.
Round Face
A round face will benefit from the lift of a cat eye frame, but a square frame will also balance out the curve of the face.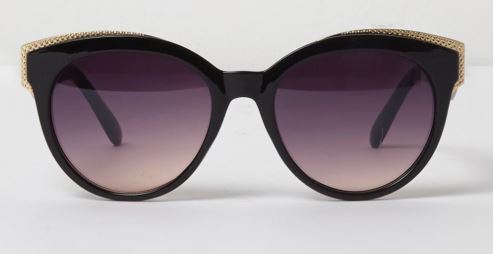 Advertised
River Island Black and Gold Cat Eye Sunglasses €17
Heart-Shaped Face
Heart-shaped faces look great with any sort of angled frame including aviators, but the squarer the better. A cross-bar helps with balance.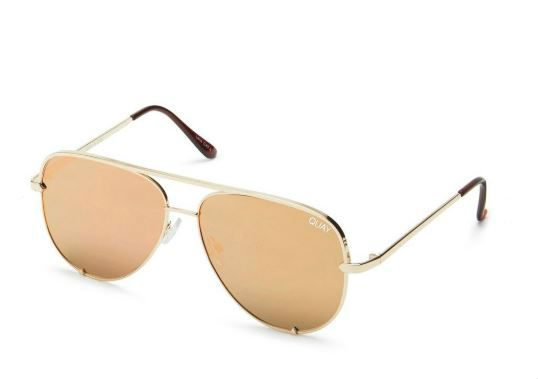 Topshop Mini Gold Sunglasses by Quay x Desi €68
Square Face
Working the same way but in the opposite, curved angles work well on a square face.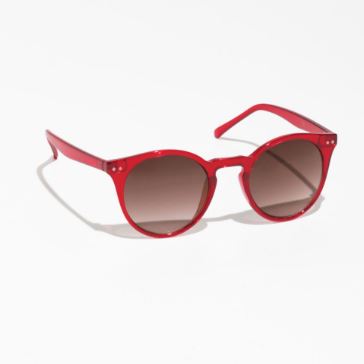 Oval
Ah, the magical oval face, commonly considered to be able to wear shape. So, YOU should try tiny frames. It may seem like I'm completely contradicting myself (once more), and yes they're trendy now, but if they really work for you, they could become your signature piece.
Advertised