 Whatever type of bank holiday weekend you're having, we have the outfit for you
Sorry to anyone who has to work Saturday, Sunday or Monday but for the rest of us - THREE DAYS OFF! THREE DAYS OFF! Another month, another chance to inform everyone that every weekend should be three days long and who invented the five-day week anyway?
Anyway, let's assume that the weather is going to be glorious with maybe a teeny little shower or two (just pop an umbrella in your mála). Being optimistic has a positive effect on the weather, in my completely non-scientific nor psychic opinion. Maybe it's just that you don't mind as much that doesn't exactly feel like the Costa del Sol when you're forcing yourself to feel happy.
Family-Friendly Festival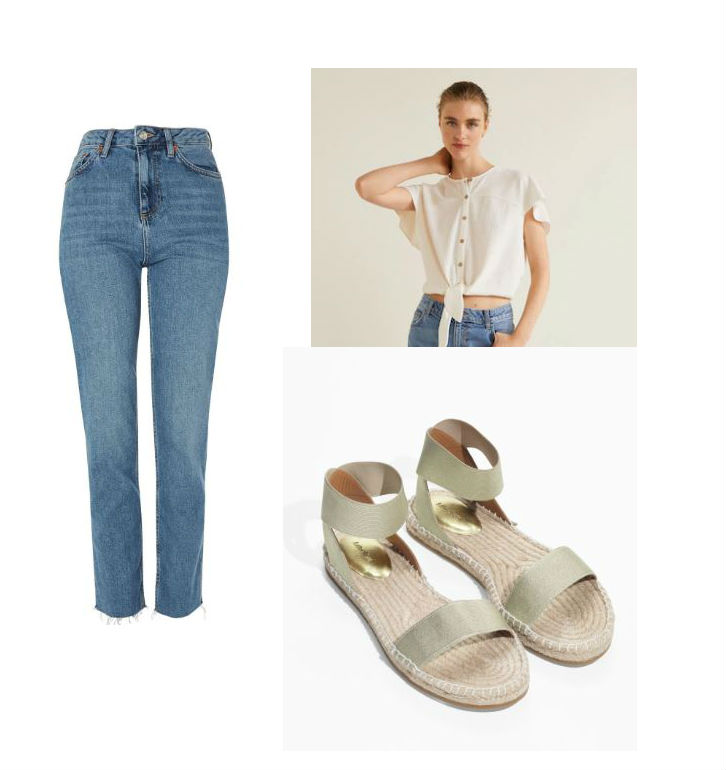 Of course you can wear a cleavage-baring halter-top and the miniest of miniskirts if you want to, but generally, the unspoken sartorial rule of family-friendly events is No Boobs, No Ass. Hey, I didn't make it up! I'm just passing on the message. If you want to play by the rules, just wear jeans and a nice top. Because there's likely to be grass, hold off on the heels. In case you were thinking your high wedges would work instead, remember all the walking. I would just wear plain but stylish flat sandals, but if you still want that bitta height, go with this season's It shoe.
Wedding Day Two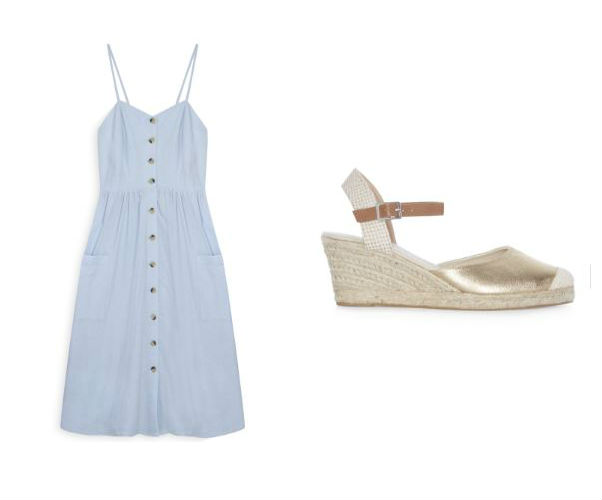 Penneys Dress €16 / Wedges €11
Presumably, you have your wedding guest dress. What? You don't? Hmm, ask Meghan. If you're going to a Wedding Day Two on one of the days, so dress up a little. The bride will want you to. A dress is the easiest to wear and to pack, and if you're in a real space-saving mood, you can wear the same shoes you wore to the wedding again the next day. Just bring along the flip-flops you found in the bathroom the night before.
A Day at the Beach
Advertised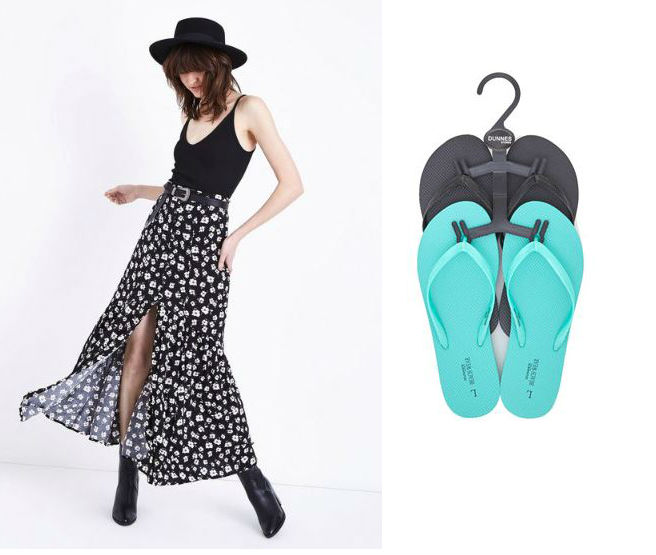 New Look Black Ditsy Floral Button Front Maxi Skirt €24.99 / Dunnes Stores Flip Flops - Pack Of 2 €2
Well, bring your swimming togs, obvs. And don't cover up with sarongs or t-shirts - you're a gorgeous babe, and you're going to ROCK that suit. You will, of course, need something to wear before and after and that's when I would wear a t-shirt and a skirt. Shorts if you're feeling particularly summery. Penneys have lovely plain white tees at the moment, that fold up at the sleeve and cost about €3 each. Flat sandals are a must in this scenario.  A must.
All-Day Brunch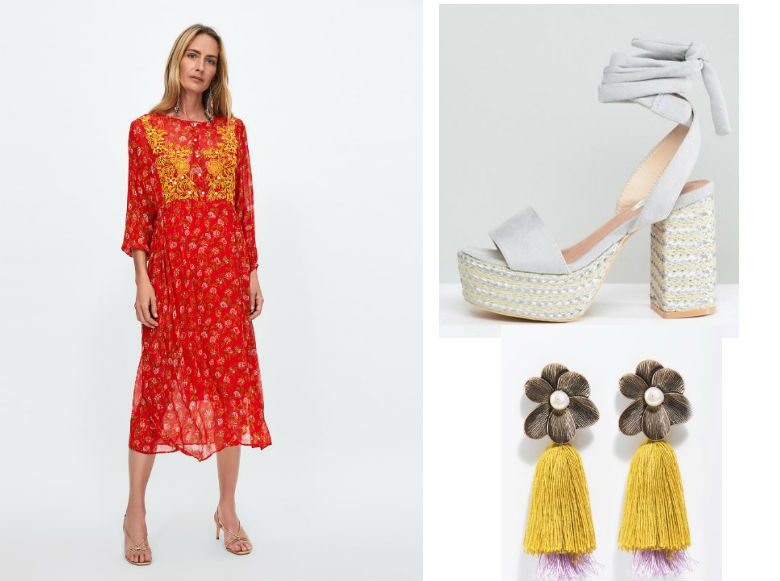 Zara Dress with Embroidered Bib €59.95 / ASOS Lost Ink Wide Fit Light Grey Platform Heeled Sandals €63.60 /
Congratulations if you're having an all-day brunch day with your pals. You are going to have a way more fun time than people going to a family-friendly festival. Farewell to a few more of your brain cells if it's the bottomless prosecco type of all-day brunch.
Your outfit for this situation has a theme: Impress Your Mates. You know that's what everyone else will be doing. Take inspiration from sartorial crowd-pleasers Pippa O'Connor and Holly Willoughby; everyone admires their put-together looks. Think skinny jeans and heels or a pretty dress with heels. A little designer bag is a plus. I will be following the Pandora Sykes school of style: patterned dress, interesting earrings and cool platform heels.
Advertised
What kind of long weekend are you having? Has any of these outfits answered your style questions?