 There are certain things you can't really wear to work when the weather is nice, like Bermuda shorts. And singlets. But there are plenty of things that you can
Let's get one thing straight; we're not Duchesses, so the tights rule does not apply. Tights in summer are a style abomination. Kate Middy-style (and now Meghan, sad face) 'nude' tights are one thing, at least they give the illusion of bare legs and they can actually flatter the leg - really. But it's 22 degrees today, and I saw too many people wearing black opaques on my walk to Beaut HQ. I also passed people wearing scarfs and winter jackets. OK, I get it. Ireland is hard to dress for. But it's June this week, which means it's really summer. Black tights are anti-summer. Black tights want the weather to be chilly, so they stay relevant. Don't let the black tights win. Put them at the back of your sock drawer until October, where they belong.
Dressing for the office is hard to do at the best of times, not least when it's sweaty season. We're not prepared for a summer of sun because Ireland is not that kind of place. But let's look on the bright side; Ireland's relatively mild climate means we're experts in the all-weather clothes department. You can wear clothes you have already without buying a whole new work wardrobe for a couple of days of sunshine. (Although there are some pretty nice new things on the high street right now.)
I've come up with three easy peasy outfit combos that will work during the warm spell without making you look like you're playing at 'going to work in the South of France'. These outfits make sense; you won't feel like you need to explain to your boss that you're wearing what you're wearing because of the weather. They'll get it. And you'll be the best dressed Sweaty Betty in the office.
Narrow pants and a shirt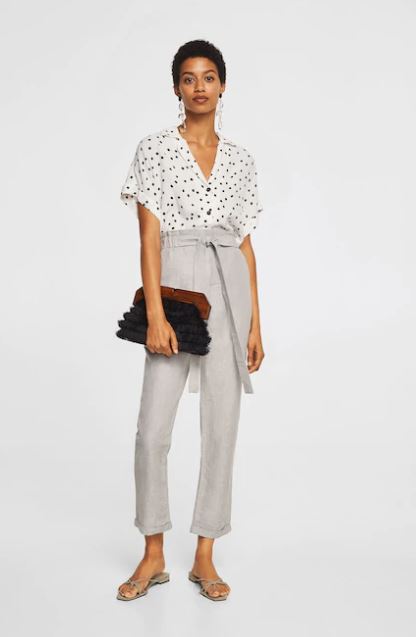 Advertised
Mango Striped linen-blend trousers €29.99 / Polka-dot print blouse €29.95  
Narrow, cigarette style trousers and a shirt is Vogue Paris editor Emmanuelle Alt's work uniform. It works for every season - throw a cashmere jumper over it in autumn - but it's great for summer. Go with a pale colour palette, and you'll look professional and polished but cool, too, in both the temperature and attitude senses of the word. A paper-bag waist is this season's It style, and you can afford to go with a looser fit (even cooler!). Make sure the hem is above the ankle.
Shoes: wear grown-up sandals if your work allows them. Backless mules if they don't. Switch to loafers when it gets colder.
Mid-length skirt and t-shirt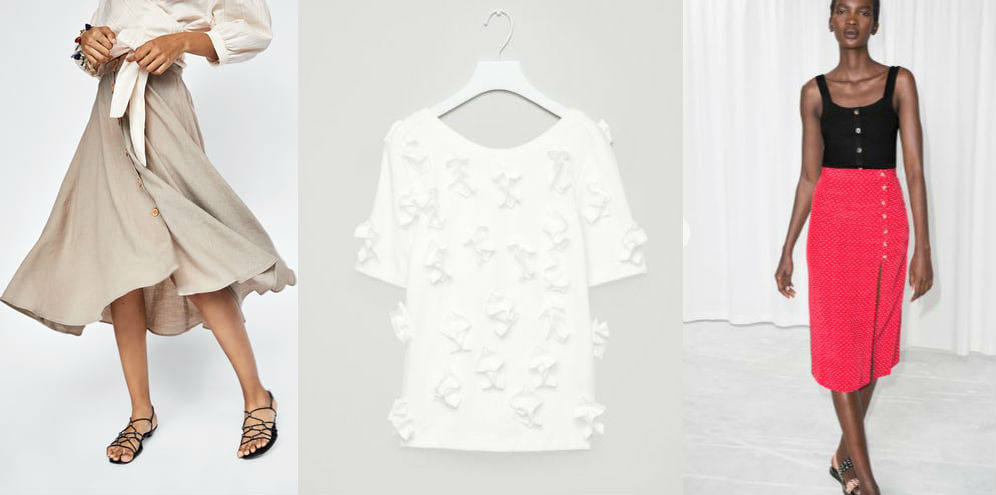 Advertised
Zara Buttoned Linen Skirt €39.95 / COS Boxy Applique T-shirt / & Other Stories 
Wear whatever summery midi skirt you own, but know that the skirt of the season has buttons. Taking obvious influence from the French aesthetic, this summer's skirt can be floaty, like Zara's, or a little tighter - but not too tight - like the one from & Other Stories. As long as it has buttons running down it, you're on trend. When you're choosing your t-shirt, make sure it's a little more luxe than the one you'd wear casually at the weekend. This doesn't mean it has to have details but maybe go for a silk material or pricier cotton. If you're worried that a tee is still too off-duty, wear with a statement necklace, or even a neck scarf á la Audrey Hepburn, if your neck can bear it.
Shoes: Break out your summer heeled sandals for this one, but pack some plimsolls for the walk home.
Shirtdress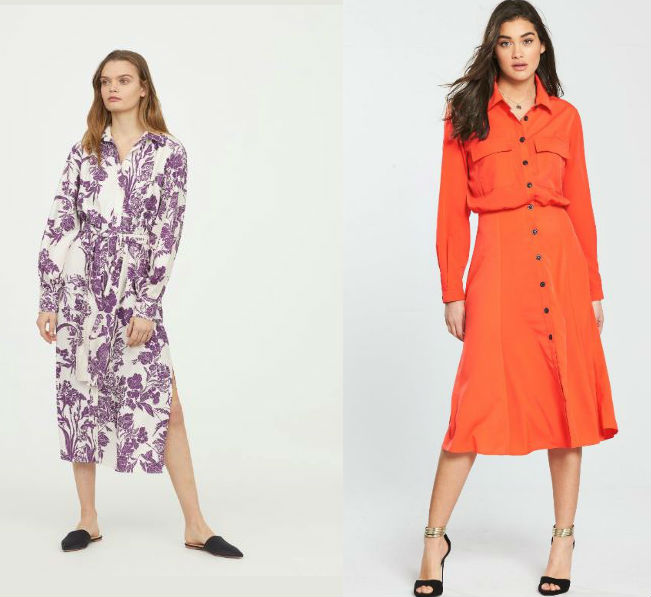 H&M Shirt dress €59.99 / Warehouse at Littlewoods Ireland Top Pocket Shirt Dress €75
When all you want to wear is your bikini and/or an extremely light, loose muumuu, wear a shirt dress. You could do with having a couple of these in your wardrobe because you don't have to think about what else to wear with them. Roll the sleeves up if they're long, like the dresses above. Accessorise with delicate necklaces and bracelets.
Shoes: You can break out your trusty wedges for this one. Or your backless mules. Or sandals. It will depend on the dress, but because they are so easy to style, it won't be hard to choose.
What kind of clothes do you gravitate towards when it's roasting outside, but you have to go to work?